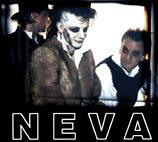 Neva était un trio résolumrnent original, originaire de Saint Quentin, composé de Jacquy (basse et chant), Bob et Eric (synths) et de Renée (la boite à rythme). Leur formation remonte à l'automne 83. Jacquy baignait dans l'ambiance des Virgin Prunes et des Christian Death et leurs concerts alliaient prestation théatrale et performance musicale. Neva était une exception dans la scène indépendante française, mais malheureusement le groupe a stoppé ses activités en 1990. Jacquy Bitch travaille en solo depuis lors.

> interviews > discography > live appearence





x-mal deutschland press articles
> biographie Trinity fanzine n°3 (1998)
> interview + review New Wave n°26 (1984)
> interview Melody Maker March, 7 1987
> Viva review Melody Maker February, 28 1987



> pictures including 4AD ads and misc pictures





> article et review If I die, I die (Rock and Folk n°192 01/83)
> review If i die, I die (Rock en stock n°60 01/83)
> review Heresie (Rock and Folk n°198 07/83)
> article et historique (New Wave n°20 1983)
> article sur les réeditions cd de New Rose (Premonition n°15 12/93)
> interview Gavin Friday (Premonition n°22 01/96)
> Virgin Prunes picture (Best n°316)




> And Also The Trees signed playlist from January 1994 show in Toulouse, Bikini
> And Also The Trees promo picture (Best n°255)
> And Also The Trees article (Best n°239)

> Clan of Xymox signed playlist from June 02, 1999 show in Paris, Locomotive
(actually they stopped after Stranger. also Ronny played Agonized by love alone as 3rd song due to some sound problems).

> The Danse Society picture (Best n°189)
> The Danse Society article (Rock Art n°4 03/84)
> The Danse Society interview (Best n°191)

> Death In June interview (Rock Art n°4 03/84)

> London ocober 1982 report avec interviews de Virgin Prunes, Southern Death Cult,
Sex Gang Children et Danse Society (Rock en stock n°60 01/83)

> Tuxedomoon picture (Best n°217, 08/86)

> Mecano article (New Wave n°20 1983)

> DAF picture (Rock and Folk n°192 01/83)
> DAF full page add (NME 2 october 1982)

> Trisomie 21 picture (l'Equerre n°3 86)
> Trisomie 21 article (Best n°250)
> Trisomie 21 interview (Premonition n°12 02/93)

> Propaganda umbrellas pictures 1 2 (l'Equerre n°3 86)

> Complot Bronswick article (l'Equerre n°3 86)

> Killing Joke interview (Best n°202 05/85)
> Killing Joke article (Best n°221 12/86)

> Bauhaus article (Rock en stock n°43 08/81)

> Southern Death Cult NME cover by Anton Corbijn (NME 2 october 1982)
> Southern Death Cult NME article (NME 2 october 1982)

some pictures...

> Faith and the Muse photos Paris 05/04/2000
> Death In June photos Bordeaux, koslow 17/04/2002



anton6@free.fr


other links of interest

> www.asso-trinity.org
Version on-line du fanzine Trinity. Excellent redactionnel, de noubreuses archives, biographies et chroniques

> www.newwavephotos.com
Great photos by Philippe Carly. a HUGE archive and a must for bookmarks !

> The Mick Sinclair Archives
Mick Sinclair was a journalist at Sounds, NME, The Face and few others magazines in the 80's.

> poisondoor.net
This german site has X-mal Deutschland archives uncluding discography and pictures.